Russell named Fellow of National Academy of Inventors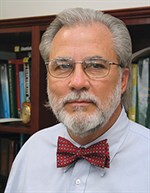 Texas A&M Engineering Experiment Station researcher Dr. B. Don Russell has been named a Fellow of the National Academy of Inventors (NAI). Russell is the Harry E. Bovay Jr. Chair Professor in the Department of Electrical and Computer Engineering, as well as a Regents Professor and Distinguished Professor at Texas A&M University.
NAI Fellows are academic inventors and innovators who are named on U.S. patents and were nominated by their peers for outstanding contributions to innovation.
Russell holds 13 U.S. patents and is a member of the National Academy of Engineering. He is also a Fellow of five other societies, including the Institute of Electrical and Electronics Engineers, the National Society of Professional Engineers, the National Academy of Forensic Engineers, and the British Institution of Engineering and Technology.
Russell and Dr. Darwin J. Prockop, Stearman Chair in Genomic Medicine and a professor in the Department of Internal Medicine at the Texas A&M Health Science Center College of Medicine, are among 170 new Fellows to be inducted during the NAI's 4th annual conference on March 20 at the California Institute of Technology in Pasadena, California.
"I am pleased and excited that these outstanding faculty members have been recognized for their applied research, which contributes to our mission as a land grant institution," said Dr. Glen A. Laine, Texas A&M vice president for research.