Building relationships and enhancing research opportunities statewide and beyond.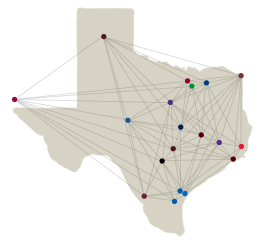 About the Regional Divisions and Affiliates:
Since 1979 the Texas A&M Engineering Experiment Station (TEES) has established partnerships with universities and two-year colleges, built on the commitment to collaboration that extends beyond the laboratory to solve real-world problems. This network supports TEES' commitment to serving the State of Texas through:
Research – developing joint centers that address the needs of a region of the state, support multi-institutional research teams to compete nationally/globally;
Workforce Development – producing and conducting continuing education and professional development to enhance the workforce needs of the state; and
Commercialization and Entrepreneurship – increasing the capacity of the region to create economic impact through commercialization of technologies developed through the research conducted at the regional institutions.
TEES is proud to work with these institutions of higher education. By building and nurturing relationships with our academic partners, we continue to assist in increasing their research capacities and enhancing research experiences for undergraduates.
Contact
Cindy Lawley
Assistant Agency Director for Workforce Development and Regional Divisions  
clawly@tamu.edu 
979-845-4932