You need the following things to upload a Voluntary Product Accessibility Template (VPAT).
A PDF or word document of your VPAT (PDF is preferred)
A College Station main campus NetID and Password
Repository permissions (Complete the form under "I need access" or send email message to:
coe-accessibility@tamu.edu)
Once you have these three things, you're good to go.
---
Check for Duplicates
Log into the repository (see Logging in and Navigating) to do a search. Do not skip this step!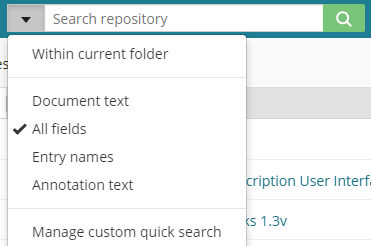 Different versions of VPATs do not count as duplicates.

e.g. we can have a VPAT for WordArt 1.0 and WordArt 2.0
but never the same document twice
Logging into the Upload Form
Do you have your main campus NetID and password? Great!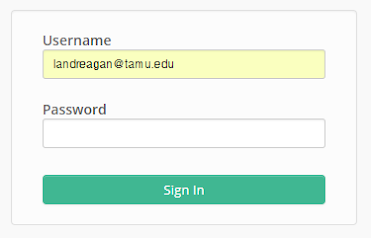 Navigate to the upload form
Enter your NetID and password (the NetID issued to you by College Station main campus)
---
Filling Out the Upload Form
Most, if not all of this information should be available on the first page of the VPAT.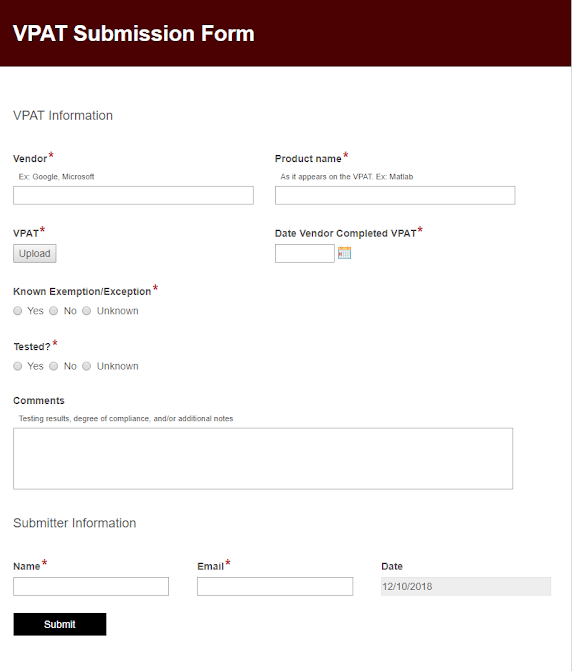 Vendor
This is the company that owns the product.

Example: Adobe, Apple, MathWorks, Google, etc.
Product Name
Enter the product name exactly as it appears on the VPAT!

Example: "Adobe Illustrator CC" or "Cisco Spark Meeting Notes Version 2.0"
Date Vendor Completed VPAT
Not the date you upload it, unless there's no other date available. This information should be on the first page of the VPAT.
Known Exemption/Exception
If you know of an exemption or exception for the VPAT you're uploading, click "yes". If you're unsure, click "unknown".
Tested?
Same as exemption/exception. If yes, you must have a test plan. If you don't have a test plan, select no/unknown and explain in the comments.
Comments
Any other relevant information that might be pertinent to share.