You need two things to log into the repository!
If this is your first time, start with this page, then read
A NetID and password from College Station main campus.
Repository permissions (contact us by email or use the link to the left if you need these)
Once you have these two things, you're good to go.
---
Logging In
Do you have your main campus NetID and appropriate permissions? Great!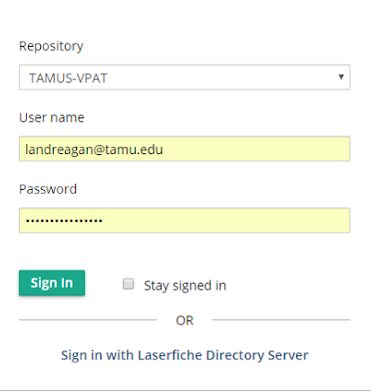 Navigate to the repository
Select TAMUS-VPATs from the dropdown menu
Enter your NetID and password
---
Navigating the Repository
Click on the "VPATs" folder. You will then see this page: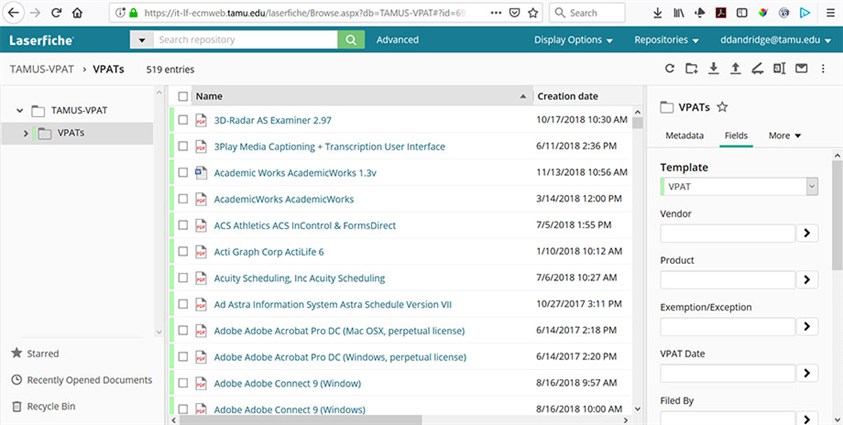 At the very top is the search bar. This is the easiest and fastest way to locate a particular VPAT.
In the middle is a list of every VPAT in the repository. You can sort this by Name or Creation Date by selecting the option on the ribbon at the top of the page.
When you single click a VPAT, a section to the right opens up. This allows you see the fields information for the particular document.
---
Searching for a VPAT
Always remember to do this before using the upload form! Do not upload a duplicate!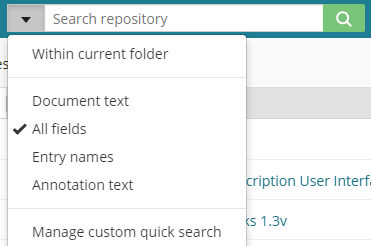 Use the search bar at the top of the page.
Click on the grey arrow to the left to bring down the drop down menu.
Make sure you check "all fields" before searching!
---
Document View
Double click the VPAT name to enter the document view.
This is how you can view the VPAT, as well as download, print and send it.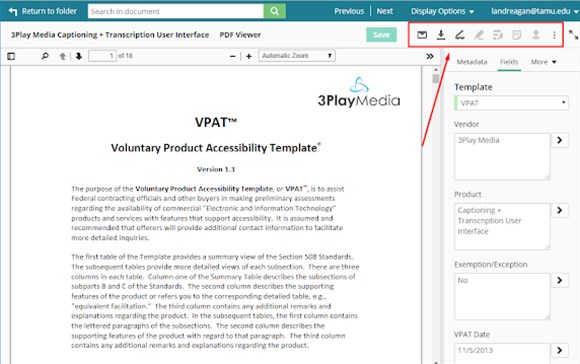 Your view may look slightly different, and the download, print and send options may be under a dropdown menu.