Additive Manufacturing Certificate Program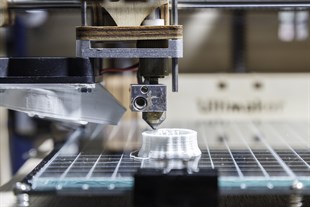 Additive manufacturing (also known as 3D printing) has evolved to a $5.1 billion industry and is predicted to grow to a $20 billion industry by 2020. Meanwhile, the Texas additive manufacturing workforce is not keeping up with current needs and opportunities. Texas A&M Engineering Experiment Station (TEES) leaders have worked closely with industry to develop the Additive Manufacturing Certificate Program to meet the demand. 
TEES EDGE, the professional and continuing education division of TEES, will offer four hands-on, expert-led modules to be completed within three months. Those who complete all four modules will earn a:
Additive Manufacturing Certificate 
52-hour, Level II Certificate
The certificate program is $7,995 and will be held at Texas A&M University in College Station, TX. To receive the Additive Manufacturing Certificate, all of the program modules must be completed. Continental breakfast and lunch are provided during the modules. Transportation and lodging is not included.
---
"The bulk of today's practicing engineers are trained solely on the basis of subtractive manufacturing. The design for manufacturing playbook is being rewritten, due to advancements in additive manufacturing, allowing engineers to imagine and build products that were previously impossible. To remain relevant there is need for a wave of current and future engineers to be versed on these 'new rules.'"
Greg Powers, Vice President of Technology at Halliburton
---